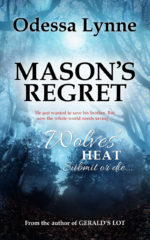 Mason's Regret is now available as a trade paperback! I meant for this one to come out in print much, much earlier this year, but… it didn't. Here it is now instead!
You can find the paperback at Amazon already, and hopefully it won't be long before it's available at other online bookstores too. :-)
Hey, I'm just glad I got Mason's book out in paperback before Will's Hope comes out! :D
ISBN-13: 978-1-9834-4521-7
The trade paperback is 5 x 8 inches and over 400 pages in a readable typeface. The look inside should be available soon.
If you pick up a copy, thank you so much! I really hope you like it.