The next R'H'ani Chronicles story, Never Enough, is finally out! It's a short novella that I've had finished for a while, but I wasn't able to publish it until now. :)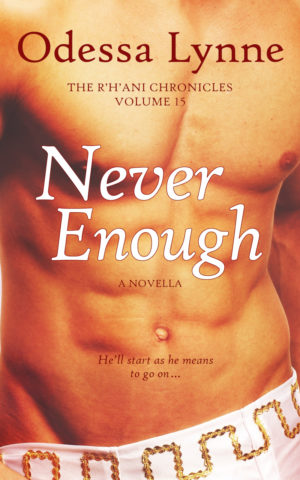 Still, when I went back to look through it before getting it ready, I was really pleased with it. I think it's a fun story and I hope you like it! :D
In this follow-up to Anything At All, Kalar plots against his new husband for a prize more valuable than all the trade between R'H'ani and the Great Isle …
But innocent Yestrille may be doing some plotting of his own …
Never Enough is another exciting tale in the R'H'ani Chronicles, where men love men and the rules of romance are complicated by contracts that bind!
Never Enough directly follows Anything At All and indirectly follows His Only Weakness. If you've kept up with the series, you know Yestrille is also in His to Keep and One to Tame.
Ahh, the threads are getting tangled now. :)
This is a long series, but the R'H'ani Chronicles stories stand very well on their own if you prefer to read them that way. However, I always recommend you read them in the order of publication for the most fun! :D
Here are links for Never Enough where it's already available, but of course, the most up to date list of links will be on the book's main page.
Amazon | Barnes & Noble | Google Play | Smashwords
Internationally: Amazon.co.uk | Amazon.ca | Amazon.com.au | Amazon.de | Amazon.fr | Amazon.es | Amazon.it | Amazon.co.jp | Amazon.nl | Amazon.br
Next up, getting Of Relations and Ships off my computer and ready to publish. I hope I'm not the only person excited by this news! It's been a long time coming and I'm really glad to finally be able to get back to my writing and publishing. :)