What is it about New United R'H'ani that appeals to me so much? Is it the sex for sale, all the manly action going on inside Rycka Marckale's harem, the contracts? Oh, yes, it's definitely ALL that. And the men. I do love them all!
Everything He Wants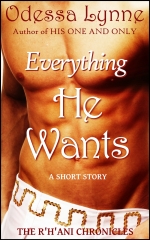 Links are on the book page!
As the R'H'ani Chronicles continue to unfold, Mareck contracts into a harem to gain his freedom from a life he doesn't want. But in a harem where men love men and virginity gives one instant status, his initiation at the hands of a group of experienced employees could be more than he can handle. Revisit Sa'Marckale's harem in the capital city of R'H'ani in this hot tale of one new employee's first experience of harem life!
This story contains explicit sex and graphic language that some people might find offensive. Male/Male Sexual Content. Erotica fantasy fiction for anyone who likes hot male/male loving with a side of romance!
Everything He Wants is the 3rd story in The R'H'ani Chronicles and is approximately 8,000 words. Also included is a three chapter excerpt of The King's Guard by Odessa Lynne.
The R'H'ani Chronicles in order:
One for Himself (Ralen)
His One and Only (Nyk)
Everything He Wants (Mareck)
Warning: explicit sex and language.
Because this story wanted out of my head it made it to the front of the line! There will certainly be a sequel. In fact, I don't have any particular plans to abandon this world any time soon, although I will be fitting more of these tales around my planned novels and other stories. ;-)