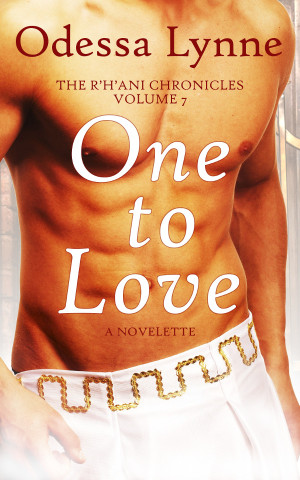 One to Love is the next story in The R'H'ani Chronicles. (#7)
SF M/M Romance.
Available now!
Available at Smashwords | Amazon | Barnes & Noble | Apple | Google Play | Kobo | and other ebook retailers.
Available internationally from Amazon UK and more.
In New United R'H'ani, everyone knows falling in love inside the harems is risky, but the intimate contact with co-workers makes it easy to fall.
Tomas is certain Tyran has done just that, and he's worried his friend's heart is about to be broken. Tomas will do whatever he can to lessen Tyran's pain—even put his own heart at risk.
Enjoy this hot new tale of harem life set in the capital city of R'H'ani, where employment inside Sa'Marckale's harem offers both challenge and delight for those lucky enough to find love!
Novelette length.
Next in series: His to Keep
Previous in series: His Only One
Full series: The R'H'ani Chronicles