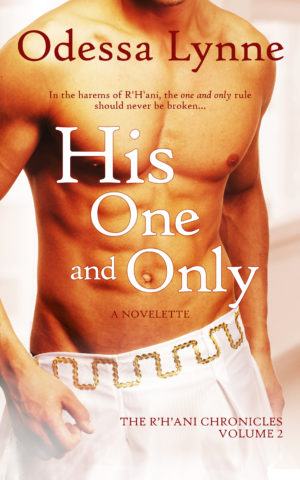 His One and Only is the 2nd story in The R'H'ani Chronicles!
M/M Romance. Futuristic Fantasy Romance.
Available now at: Amazon | Amazon UK | Apple | Barnes & Noble | Kobo | Smashwords | and other ebook stores
Nyk must guard his heart when his friends make assumptions about him and Ralen…
Nyk interviewed Ralen in One for Himself. In this follow up tale of steamy romance, Odessa Lynne brings you a slice of harem life in R'H'ani's capital city, in the harem of Rycka Marckale, where men love men and the one and only rule should never be broken…
Enjoy Nyk's and Ralen's further adventures in one of the most coveted harem jobs in R'H'ani!
This story contains explicit sex and language. Male/Male sexual content—and a lot of it!
Next in series: Everything He Wants
Previous in series: One for Himself
Full series: The R'H'ani Chronicles
I really enjoy writing this particular series. I could blame the world I've created, but it's probably just the sex. ;-)